From Play to Pay
How does BumaStemra distribute for online music use?
And as a creator, what can you do to avoid losing out on income?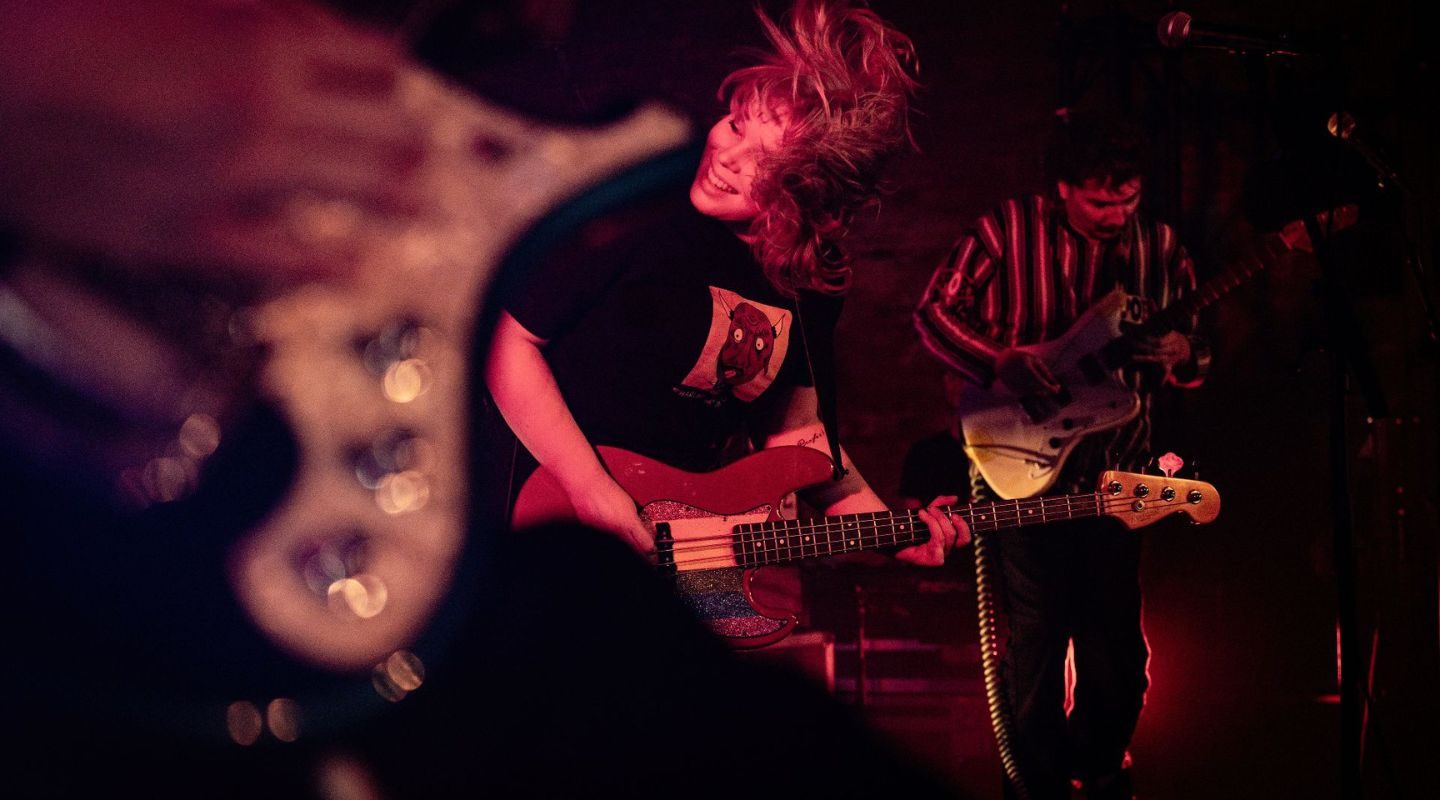 The online music industry is not easy to explain. We want to share our knowledge so you can understand your music rights, because we need each other to maximise your income. Here's an in-depth guide into the processes and income sources of online music services: from play to pay.
How to read this article
Not everyone wants to learn more about copyright. And you might already know a lot about how our licences work. So, let's dive straight into our online licensing deals and how to get paid for your music on Spotify.
This doesn't mean that you'll miss out on other information. Later in this article, we'll refresh your knowledge of music rights. We'll explain how online licensing works in the Netherlands and overseas. And we'll tell you more about how to release your music online.
If you're completely new to the world of music rights and licensing, then the best place to start reading is here. After that, just click on another topic of interest in the table of contents to find out more.
Our deals: getting paid for online
International music deals

This world map shows our international licenses. You can see which music services we collect directly for you and in which countries.
If a music service is not shown, then our local sister society collects for the music use. They pay us and we distribute the payment to you.
Video on Demand deals
Is your music used by a video on demand (VOD) service? We have licences with several VOD services in the Netherlands. We also have agreements with international sister societies. They pay us and we then distribute payment to you. You can find an overview of our larger licences for the Netherlands here:
How do I get paid for Spotify?
Let's begin with the most frequently asked question. We'll take you through the whole Spotify process. And we give you practical examples and tips to minimise your chances of losing out on income.
Tip: first, watch our video below for a short explanation. Then you can read on to find out more.
Please note: this explanation about Spotify applies to most international subscription music streaming services, including Apple Music, Deezer, Amazon Music, YouTube Music, TikTok and Qobuz.
Billions of streams
Spotify is available in a growing number of countries worldwide. Your music can be streamed in any of those countries. Our goal is to collect your payment directly from Spotify in as many countries as possible and distribute it to you quickly. That's easier said than done. Because this involves huge IT and regulatory challenges.
Spotify sends us a report with all streams every month, for each country and subscription type separately. Currently, this covers 48 countries. And there are different subscriptions in each country, such as Free, Premium, Duo, Family and Student. We process billions of streams. Every month.
We have a match!
These Spotify reports are processed automatically. We match them to our system where all the songs registered by you and our other members are stored. This database also knows the share a rightsholder owns for each work. For every match, our system determines whether we can invoice for a rightsholder's share.
Not a simple invoicing process
If we can invoice for a share, then the system claims payment according to the agreed rate. Each subscription is subject to different agreements. This usually breaks down as follows:
The largest amount of the calculation: (Spotify revenue * rate) or (number of subscribers * minimum).
After the process of matching and claiming, we send Spotify a CCID. This stands for Claim Information & Invoice Detail, but you don't have to worry about this. It is simply the breakdown of our invoice for all claims, listed per month, per country and per subscription.
And we do it three times…
We repeat this whole process several times at Spotify. Why? Because we want to distribute your income from this biggest music service as soon as possible.
But we can only do this if your work is registered with us. We know this doesn't happen all the time. That's why we have multiple claim moments. This allows us to give everyone enough time to get paid, without unnecessary delays.
At least that's the way it works now. This could change in the future, so the sooner you register your work the better.
We aim to distribute royalties one-to-one to the rightsholders of the streamed songs for as many services as possible. To ensure that the costs outweigh the benefits, we may have fewer claim moments for other services.
By the way, did we mention that it's important to register your work quickly? If you want to play it safe: register your work along with the online release. Then you will get paid as soon as possible.
What is a stream on Spotify worth?
We are often asked this question. Unfortunately, there is no fixed value of a stream on Spotify. This is the same for all streaming services. The stream value always varies by country, period and subscription type.
In our statements, you'll see average stream values based on all the revenue of a work. This figure gives a rough indication of the average stream value of the different subscription types. Please take this into account when using these amounts for further analysis.
How do we collect the publisher share for Spotify?
The creator is leading when claiming payment. If we claim for a composer or songwriter, we do the same for the publishing share. Internationally, this also applies to the sub-publishing share. We then distribute payment to the main publisher.
This works the other way round too. We don't collect for a BumaStemra-affiliated publisher if we don't represent the creator. In this situation, the creator's rights organisation also collects the publishing share for our publisher. They pay this money to us, and we distribute it in the International settlement.
When does BumaStemra distribute for Spotify?
Let's say your track was streamed on 1 January. You'll receive distribution nine months later on 22 September. The chart below shows the steps we take to distribute your royalties.
Suppose the rate is 15% and the agreed minimum is € 1,24 per subscriber per month. With Spotify revenue in month X of € 90.000,- and 11.000 subscribers, we make the following calculation: 15% of € 90.000,- is € 13.500,- and € 1,24 x 11.000 subscribers is € 13.640,-. The royalty amount for all music is therefore € 13.640,-. And now imagine that in this example 50% of the songs are from BumaStemra members, then we send Spotify an invoice of € 6.820,-.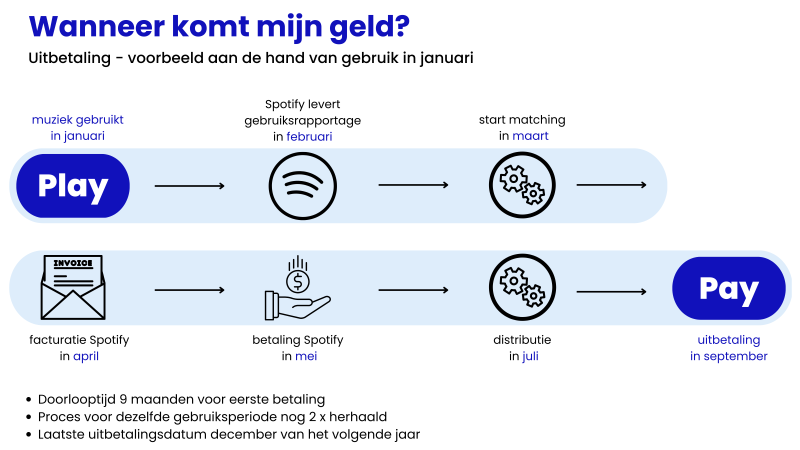 An example of the entire process from play to pay. We distribute a stream on 1 January in September.
Let's take a closer look at the steps in the diagram.
1. Music used
OK, so your track was streamed on 1 January. To keep the information on this page relevant, we won't include a year in this example.
2. Spotify delivers usage report
Spotify sends us a report with all streams 15 days after the end of each month. We receive all the reports for January on 15 February.
3. Matching begins
We wait a month to start the matching process. This gives you a bit more time to register your work, so you can receive your money quickly.
4. Invoicing
The matching and invoicing process takes about two weeks. On 1 April, our invoices are sent to Spotify digitally.
5. Receive payment
Our invoices have a payment term of 30 days. We'll have your royalties in the bank on 1 May. So why does it still take us so long to pay out to you?
A brief pause
If you look closely, you can see a gap of 2,5 months between receiving Spotify's payment and our distribution. We use this time to ensure the registration of works is as complete as possible. It's important that we can distribute as much money as we can in one go. We process the works with the highest amounts first.
6. Distribution
The distribution process starts on 15 July. This takes about three weeks. During this process, we check the shares of each work one last time to make sure we know who to distribute to. Differences can arise between the time of invoicing and distribution. For example, if the status of a work changes or a dispute is resolved. Then we need some time to process and check the distribution data before distribution can take place.
7. Payment
Payment for Online is made once a quarter. We transfer payment for three months of music use to your bank. In our example, you don't just get your royalties for that one stream of your track on 1 January. In September, we will pay you for all streams of your songs from December to February.
Is it possible that my work is not matched?
This is a great opportunity to highlight the importance of metadata. For the non-techies: metadata is all the data that is sent with a track. For instance, the title, artist, composer, songwriter and unique codes such as ISRC (recording code) and ISWC (work code).
Sometimes a registered work does not produce a match. Poor metadata is often the cause of this.
Make sure that the track on Spotify matches the work you register with us. The important thing is the title, composer and performer. And pay attention to spelling and punctuation.
Publishers can also include the ISRC to match.
How we distribute unclaimed works
At the end of the process, there are usually tracks we can't identify from the Spotify report. Shares of songs or entire works not claimed by anyone. We call this unclaimed or residual.
Each party Spotify licenses gets a share of this, pro rata to market share. This is assessed on a country-by-country and subscription basis.
By paying out these unclaimed works, the Spotify payments are distributed 100%. We distribute this payment as an additional amount to everyone who has already received money in that month, pro rata to your share of that settlement.
And then there was a dispute…
With accurate registration details and good metadata, we can usually distribute your payment quickly. However, there are two areas where things occasionally go wrong. The first is in the case of a dispute.
A dispute arises when creators and/or publishers register the same work with different rights shares. We don't know which registration is the correct one. A dispute can occur in two ways:
1. Dispute between BumaStemra members
We invoice on behalf of our members and Spotify pays for our claim. We will distribute the amount as soon as the dispute is resolved.
2. Dispute between a BumaStemra member and an external creator or publisher
In this case, we do not claim because we are likely to claim too much or too little. It's therefore important that you resolve disputes as soon as possible so that payment can take place. The same deadlines apply for this as for submitting your works. We update you about these timings in our newsletter.
Your work has status
In MijnBumaStemra, you are able to see the status of each work: provisional distribution or final distribution. In the case of a provisional distribution (also known as Status 2), the application has not yet been checked.
We only check the distribution of a work if use is known and the work therefore has value. This value can come from all forms of exploitation, not just online use.
Your work will then receive a final distribution (Status 1), so that we can pay you.
Example
Suppose you received € 500,- in a month, a 0.1% share of the total. The entire unclaimed is € 40.000,- that month. That means you get € 40,- distributed as an additional payment.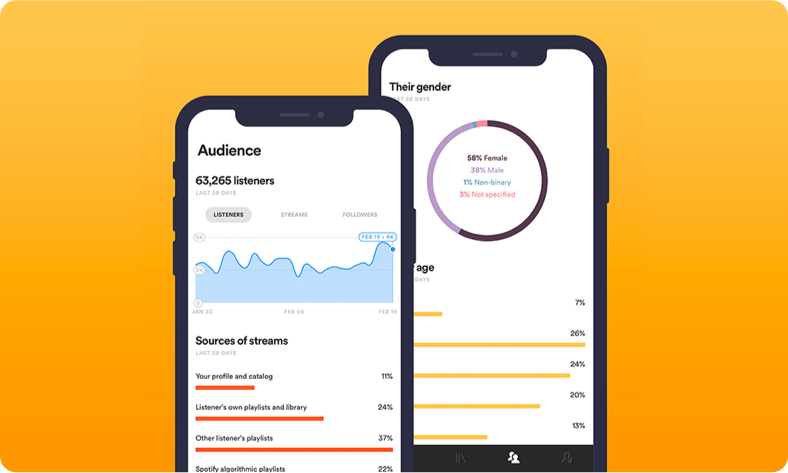 Spotify for Artists dashboard
Many aggregators offer insights into how often your music has been streamed. Spotify also has a detailed dashboard called Spotify for Artists. You can get all kinds of interesting insights about your music from this. And you can compare this data with our settlement information.
We encourage you to do this. But we also add a caveat. To prevent you from comparing apples and oranges, there are four things to consider:
Spotify only reports streams in countries where we have active licences. Streams from other countries do not show up on the Online and Online International settlements. You do get paid for use through the International settlement, however we can't show the number of streams because our sister societies don't usually report this to us

Spotify does not report streams used during a free trial period, but you may see these in the dashboard

Make sure you use a filter to select the right period. Spotify's dashboard is real-time, whereas you only see invoiced streams from us. Align the period in the dashboard with our distribution period
As you can see, it's quite hard to make a comparison because you can't assess figures very precisely. We therefore recommend using Spotify for Artists mainly for analytical marketing insights. That said, you can detect any major differences with Spotify's dashboard.
Example
Imagine, you see that you have 30 million streams on Spotify for Artists. Most of these streams come from Europe. But you only get paid for 50.000 streams by us in the same period.
Please report any major discrepancies directly to us in a comment. We will then find out if something has gone wrong and see how we can invoice for you.
How we pay out for YouTube
From the biggest music service Spotify, we make the jump to YouTube. We get a lot of questions about this platform because it is used so much. The way we pay out for YouTube works in the same way as Spotify.
This is the case if a record label or aggregator puts your music online. Or someone who is – in YouTube's words – a Content ID partner. First, the video must consist of at least 90% music, and it must be classified as a 'music video'. The option that ensures ads are shown must also be ticked.
If all these conditions have been met, then we receive a report listing the recordings used so we can claim for you. We then share in the advertising income.
The claim we make is not per video, but per recording used. If a recording features in multiple videos, all streams are added together, and we can claim in one go for all video streams of that recording found by YouTube. YouTube searches for music based on references from the recording uploaded by the record label, aggregator or Content ID Partner.
We claim in as many territories as possible. Currently, this covers 198 countries.
Other videos on YouTube
YouTube calls these videos General Entertainment. These are any videos that are not music videos as explained above. What remains can range from funny cat videos with no music to videos with unrecognised music.
We receive a lower payment for this. We don't distribute this payment one-to-one to the music creators because no data relating the music is known. Or it's poor quality, so we cannot match it correctly.
Suppose in one month, you have received € 500,- for music videos on YouTube, a share of 0,1% of the total. And we received € 40.000,- for General Entertainment that month. You will then be paid an additional € 40,- as a surcharge.
YouTube Premium
Finally, YouTube also has two subscription services. YouTube Music Premium is YouTube's music service, similar to Spotify and Apple Music. We process this service in the same way as Spotify.
The other subscription is YouTube Premium. This subscription gives you access to the regular YouTube platform, but it's ad-free and allows you to watch videos offline as well. YouTube Music Premium is included in this subscription. We process the streams of ad-free viewed videos in the same way as the advert report. Only we get a percentage of subscription income instead of advertising income.
Can I make money with my music on social media?
Yes, you can! We have deals covering music use with the biggest social media platforms. Let's go through them one by one.
Royalties for Facebook and Instagram
Facebook and Instagram belong to the same owner, and we have a deal in place for both services. Our deal with these platforms covers most countries in the world. This is, therefore, broader than with most streaming services.
We charge based on the number of views of a video containing your music. This could be a wedding video with a music track underneath. Or a snippet in an Instagram story.
Important! Our licence covers the public performance of music in videos. Companies that want to use music must first arrange additional permission for synchronisation rights, also known as sync. No sync permission is needed for personal use.
This also applies to TikTok.
Receiving money for TikTok
In late 2020, we signed a deal with TikTok for 187 countries worldwide. We collect and distribute based on the number of creations of videos containg works by BumaStemra members. A song used in 10.000 different videos can expect a higher payment than one that appears in 100 videos.
Other social media platforms
We are in talks with several other social platforms about music licensing. We'll update this page as soon as we have more information. And we announce new deals in our newsletter.
Royalties for Netflix and Video on Demand
Video on Demand (VOD) works very differently from music streaming services. We only invoice VOD for streams and purchases from Dutch users. We are the only party that a company like Netflix has a music copyright licence with in the Netherlands.
We also invoice for music by international creators. We distribute this money to the rights organisations that these creators are members of.
The opposite is also true. Globally, the local rights society collects your payment from Netflix for use in that country. We will distribute this money to you through the International settlement.
How we invoice for VOD
Every quarter, we get a report listing all streams from the likes of Netflix, Disney+ and Videoland. Or the rental and purchase of single films via iTunes, Amazon and Pathé Thuis.
We then send an invoice for all usage according to the agreed rate. Then we start to process the report for distribution.
All songs are listed in a cue sheet
The report contains the titles of series and films, but not the tracks that were used in them. To find this information, we use cue sheets.
A cue sheet is an international reporting format that lists exactly what music is used in a film or series. We store these cue sheets in our database so that we can match them with the usage reports from VOD services. We then know exactly which songs to allocate the money to.
We receive some cue sheets from film producers and VOD services. But we get most of the cue sheets from CISNET. This is a portal that rights organisations use to exchange cue sheets.
It's all about the money
We calculate the royalty amount just like Spotify, using the highest amount of the calculation: revenue from Netflix * rate or number of subscribers * minimum. The rate and minimum are lower with a VOD service because a film or series doesn't consist entirely of music.
And like Spotify, Netflix has no fixed stream value. We work with a seconds value for VOD. We calculate this by dividing the royalty amount by the total number of seconds of music used on the platform.
Once we have worked out what a second of music use is worth, we multiply this by the number of seconds your song has been used and the number of times your film or series has been streamed. This is how we know how much to pay out to you.
Example
Suppose we billed Netflix € 10.000,- for a quarter. During that quarter, 50.000 hours of music were used. That's 180 million seconds. A second of music use is therefore worth about € 0,00006. So if your music was used in a film for 1.5 minutes and that film was viewed 40.000 times, you will be paid € 200,-.
Note that we do not round up second values. So that € 0,00006 actually has a lot more decimal places. But that didn't look nice written out for this example…
We explain the whole process in this video. And we answer questions from our members.
Key countries and territories for Online
We collect for an increasing number of countries worldwide. And we already hinted that this sounds simpler than it is. In practice, we can't just license for all countries and collect the fee directly from the music service.
In any event, we collect your payment for all countries in Europe. We are also collecting more of your royalties directly outside Europe, especially on UGC platforms. For some territories, we collect royalties using an intermediary or licensing hub. These are copyright societies that collect fees through a joint licence. We do this because either local legislation requires it or there are legal challenges or risks to a direct licence in that territory.
If we don't have a direct deal, then the local copyright society will collect for the use of your music and pay the royalties to us. This mainly happens with smaller and/or local music services outside the Netherlands, or in countries where direct deals are not allowed. The US, Canada, South Korea, China, Australia and Japan are the main countries where it works like this.
Below, we focus on the two most important territories for online: United States and Asia.
How we collect for you in the US
It is the biggest music market in the world: the United States. Understandably, we get a lot of questions about how we ensure our members get what they are entitled to. We're going to take you on a journey to discover just how licensing works in America. Let's Go U.S.A!
Performing rights in the US
In the United States, there is no organisation like BumaStemra that represents all music copyrights. Performing rights and mechanical rights are handled separately. And even for performing rights, there are three different Performing Rights Organisations (PROs): BMI, ASCAP and SESAC. We work with all three.
Find out more about BMI, ASCAP and SESAC here.
Is your music used online in the US? Then BMI, ASCAP or SESAC will collect for the use of your music and pay us. We pay these fees through the International settlement.
Mechanical rights in the US
From 2021, mechanical rights for many Online music uses in the US will be handled by the Mechanical Licensing Collective (MLC).
They collectively claim mechanical fees for works registered in their database. We are working hard with the MLC to get as much of our repertoire as possible into their database.
Our primary focus is on works that are not sub-published in the US. It's common practice that sub-publishers collect all mechanical rights in the US. We are discussing this with our Council of Members, but for now we are following this practice. If your works are sub-published in the US, we recommend you contact your publisher.
We are doing our best to register as much repertoire as possible with the MLC. Unfortunately, we cannot guarantee that all the works we represent will be included in the MLC database. Working closely with MLC, we are performing lots of manual checks to monitor the situation. We may have to make a choice about which works are controlled and which are not. We will, of course, do our best to include as many works as possible with the MLC.
If your songs are not yet in the MLC database, this doesn't mean you will miss out on your royalties; MLC pays out to Stemra on a monthly basis, including for older usage periods. They do so up to three years retrospectively. If you want to know if your works are registered with the MLC, feel free to take a look at the database. It's available to everyone.
Differences for YouTube and Facebook
An exception to this is YouTube. We are working with the company Muserk. They claim the US mechanical rights for YouTube on our behalf. You may have come across the Muserk name below your video as one of the claimants.
We collect mechanical rights for Facebook through Harry Fox Agency (HFA).
How we collect your royalties from Asia
The online market in Asia is growing rapidly but has traditionally been complex to licence. In late 2020, we announced our partnership with APRA AMCOS, the well-known Australian collection society.
Through this partnership, we'll collect your payment for online usage in the wider Asian region, including India. We are collectively participating in this 'Pan Asian Multi-Territory Licensing (PAL) hub' together with 12 other members. This will allow us to quickly collect your payment from the popular online music services in this region.
South Korea and China do not allow any direct collection in this way. So, for those countries, the income goes through our sister societies.
About rights and licensing
We love everything about music rights and licensing. But we understand that not everyone is a budding BumaStemra employee. You can skip this section and go straight to our practical tips. Come back and read this bit later. Or send it to your manager.
If you already know everything there is to know about rights and licensing, there are two things you can do:
Come and work for us!
Or skip this section and check out the practical tips on monetising your music and releasing your music
Music rights: what's it all about?
Let's refresh your knowledge. An online music service has to deal with two types of music rights:
Copyright in the lyrics and composition
Neighbouring rights in the recording
Copyright is the right belonging to the composer and songwriter. They are often represented by a publisher. Neighbouring rights are the rights belonging to performing musicians and record labels.
Anyone wishing to use music needs permission for both rights.
Getting permission with a licence
Online music services must have a licence for permission to use music. If the music service only operates in the Netherlands, then it's quite easy.
BumaStemra can issue a licence for almost all music copyrights. This includes songs from our own Dutch creators and music publishers, and those from all our fellow collection societies worldwide.
As a BumaStemra member, your music is covered by these licences. We give music users permission to use your music. And we collect a fee for this use.
Online licence on behalf of Buma and Stemra
Do you know the difference between Buma and Stemra? Vereniging Buma collects for the public performance of music, aka performing rights. Stichting Stemra collects for reproduction rights, or in other words for making copies, better known as mechanical rights.
Both rights are part of copyright law. And both rights matter when using music online: performing as well as reproducing.
We therefore issue a combined licence on behalf of Buma and Stemra. We distribute income to members of Buma and Stemra based on an allocation key.
Distribution of performing and mechanical rights
With streaming, the emphasis is on performing: letting people hear music. Therefore, we divide 75% of income (PR) by performing rights and 25% by mechanical rights (MR).
For downloads, the main focus is on saving a copy. The allocation key is exactly the other way round: 25% performing rights and 75% mechanical rights.
This distribution of rights may vary by type of use and country. You can find an overview on CISAC's website: European Rights Splits.
Neighbouring rights through Sena or NVPI
For a licence for neighbouring rights, please contact neighbouring rights organisation Sena. They collect for non-interactive (or linear) online use of music. For example, an online radio station.
For neighbouring rights for on-demand music services and other forms of interactive music use, you can go to the NVPI, the trade association for record labels.
Licences for international music services
There is no licence for international music services that covers all music copyright in one go. Services like Spotify have licences with many parties to arrange all rights. They have a licence with BumaStemra too. We invoice them as much as possible for the global use of our members' tracks. This allows us to distribute your royalties faster, more transparently and at a lower cost. We do this for all major international music services. And only if the benefits outweigh the costs, because it is a laborious process.
Overview: how we collect and distribute your rights
Here's a quick recap of everything:
The Netherlands
In the Netherlands, we invoice for the use of your music by major music services, as well as for small online radio stations. And everything in between. We will distribute your payment in the Online settlement.
Making money and releasing music online
OK, now you understand rights and how our licences work. We also regularly get questions about the other income you can earn with online music.
We do not pretend to be specialists in this field, but we are happy to share our knowledge with you. Let's start in familiar territory.
Income through BumaStemra
BumaStemra's revenue stream for copyright might not be the biggest, but it is the most important revenue stream – if we do say so ourselves.
Membership is a prerequisite. You must have registered your musical works with us. If you haven't joined BumaStemra, you are leaving about 13-15% of the cake you are entitled to.
Unallocated money remains with the music service and is then distributed pro rata to all licensors after about 18 months. And some of this goes to BumaStemra.
We distribute these unclaimed funds as an additional online payment. But only to our members. If you're not a member, you are really missing out on this income.
How does BumaStemra know that my music has been streamed?
Every month, we get a list of the millions of tracks streamed by each music service per country. Hundreds of files with billions of streams.
We match each file with our database of registered songs. We then automatically check whether we represent a creator or publisher. And what their share of the work is. We claim payment for this share of the work as per the agreed rate.
Finally, we send the music service an invoice with our claims.
Not registering work = missing out on money
It sounds harsh. And it is. We can only claim payment on your behalf if your work is registered on time. Without your track in our database, we don't know that we can claim for it.
Your payment remains with the music service as unclaimed work. We then have one last option to claim for you if you register your work later, a back claim. However, you often have to wait up to two years to receive this.
Don't leave it too late or you'll miss out on your payment.
Make sure you register your work on time. Preferably at the same time as the release of your track. Then you'll get your money as soon as possible.
How do I get my music on Spotify?
Your track is ready for everyone to hear. You want to put it on the major music platforms, including Spotify. There are two options:
Your record label arranges your online release
You look for an aggregator for distribution on Spotify
To avoid cluttering the platform, you can't upload your own music to Spotify as you can to YouTube and SoundCloud. Spotify works with aggregators (online music distributors) who submit your music correctly to the music platforms of your choice.
This is useful for DIY artists who release their music without a record label. It's also recommended for releasing your music on YouTube and SoundCloud, as you usually don't get income if you upload your tracks yourself.
Choosing the right aggregator
This is not our area of expertise. But fortunately, there are people with plenty of experience in releasing music. Like Martijn Crama. Watch his video with tips on choosing the right aggregator.
Below is a list of some aggregators we know through the course of our work or that we have heard good stories about from our members.
Income through an aggregator
An aggregator doesn't just make your music available on Spotify and others. It also provides an important revenue stream: a payment for recording rights, also known as master rights in the Netherlands.
The aggregator collects for these rights and shows you where your music has been streamed. This income is accumulated until a payout threshold is reached. You can often have payments made whenever you want.
Some aggregators withhold a percentage as commission on payments they collect for you. Others charge a fixed fee per year.
Please note: if you share the master rights to the recording of the track, then you will have to share the income with your co-rightsholders.
Income through a record label
Have you signed a record label for your release? Then it depends on the deal you sign whether you get income for neighbouring rights from interactive streaming, and if so, how much.
These payments are often offset against the label's investment in you, or your advance if you were paid one. You'll find these terms in your record contract.
This information on the revenue stream through aggregators and record labels is designed to give you a more complete picture. And to show you not to confuse this with copyright income.
We recommend you contact an expert for more information or advice.
How much does an online music service pay and to who?
To wrap things up, we briefly summarise the income amount and where it goes. This is based on our own experience, and what we know from international sources, such as the Digital Dollar: Song Royalties Guide.
A Premium subscription costs € 9,99 per month. After deducting 21% VAT, that leaves € 8,26. This amount is distributed as follows:
€ 2,48 to € 2,89 for the music service (30-35%)
€ 4,13 to € 4,54 for record labels (50-55%)
€ 1,07 to € 1,24 for royalties (13-15%)
Look to the future
We are nearing the end of this page. and it's time to look to the future. There are a few developments affecting the world of music copyright. And your income.
In this final part, we discuss the value gap and the new law to end it.
New directive to end value gap
Lots of music is added to major international platforms by the users themselves. This is also referred to as user-generated content. Until recently, these platforms didn't have to pay for this content.
Sometimes a payment was made, but it was far too little in relation to the value of the content. Online platforms were able to do so because the law was unclear on whether the platforms were responsible for this content. This created a 'value gap': the gap between the actual value of content and what is paid for it.
With effect from 7 June 2021, this has changed. A new law, based on a European Directive, is intended to address this gap. The directive now clearly states that creators are entitled to "appropriate and proportionate" payment.
For copyright enthusiasts: see Article 18 of the directive. This is now the law and we're going to follow it.
There has been a lot of publicity surrounding Article 17. This raises the possibility that content could be blocked. We were a little surprised by this concern. In all our years of operation, we have never blocked content. However, it could still be the case that a specific platform cuts off access to music if they can't work things out with our colleagues.
The new directive reinforces what we have always strived for. We remain committed to improving payments and conditions for composers, songwriters and their publishers.